SPRING #19 'SCHEITERN' 22/8/2022
the 19th issue of SPRING has the topic FAILURE (SCHEITERN). Contributing artists are Maki Shimizu, Nadine Pedde, Julia Bernhard, Katrin Stangl, Birgit Weyhe, Maren Amini, Romy Blüml, Almuth Ertl, Katharina Kulenkampff, Carolin Löbbert, marialuisa, moki, Nina Pagalies & Stephanie Wunderlich

order at -> mairisch
SPRING #18 'FREIHEIT' 29/8/2021
the 18th issue of SPRING has the topic FREEDOM (FREIHEIT). this time with stories by Maren Amini, Larissa Bertonasco, Romy Blüml, Almuth Ertl, Doris Freigofas, Moshtari Hilal, Katharina Kulenkampff, Carolin Löbbert, marialuisa, moki, Karina Tungari & Stephanie Wunderlich

order at -> mairisch
i took part with three stories: IN DESPAIR, IN LIMBO & IN MY MIND
SPRING #17 'GESPENSTER' 18/9/2020
the 17th issue of SPRING has the topic GESPENSTER (GHOSTS). this time with stories by Anke Feuchtenberger, Mari Kanstad-Johnsen, Inga Kählke, Sarah Mazzetti, Doris Freigofas, Katharina Gschwendtner, Romy Blümel, marialuisa, moki, Nina Pagalies, Katrin Stangl, Kati Szilagyi, Larissa Bertonasco, Birgit Wehye & Stephanie Wunderlich

order at -> mairisch
special: NIGHT-GLOW COVER!!!!
i was able to draw / paint two stories for this issue –
"SPOOKY" which asks for the reason to turn into a ghost? i was thinking of the early death of Genevièv Castrée (in 2016 with 35 years) & Margaret Kilgallen (in 2001 with 34 years)
for my sequence "DEVIL'S HOLE" i have painted acrylic pictures and reworked them for the due-tone pantone publication with airbrush backgrounds.
SPRING #16 'SEX/GENDER' 4/9/2019
the 16th issue of SPRING deals with questions of SEX and GENDER. this time with stories by Larissa Bertonasco, Aisha Franz, Doris Freigofas, Jul Gordon, Katharina Gschwendtner, Carolin Löbbert, marialuisa, moki, Nina Pagalies, Nadine Redlich, Katrin Stangl, Kati Szilagyi, Birgit Wehye & Stephanie Wunderlich

order at -> mairisch
i have been drawing/painting on two stories:
"MUGELKENSCHEN by Darton Plawin" which is a word twist of KUGEL-MENSCHEN (spherical beings), a story by planton. this legend is visually mixing up with darwin's theoriy of evolution and the upcoming of sexual reproduction.

the second story is called "WHERE I END & YOU BEGIN" after a song by radiohead –ten paintings about the idea of coming together and forming a collective body.
SUMPFLAND 5/5/2019
my graphic novel SUMPFLAND is published by reprodukt
hardcover / 168 pages on munken paper/ 2 pantone colors / german/ 20euro
For everyone who orders a book at (m (at) mioke.de) takes part in a lottery for an acrylic painting (more info www.mioke.de/publications.htm)
I'd like to thank you Dirk Rehm, Lily Wittenburg, Romy Blümel, Ada & Aki, Sascha Hommer, Arne Bellstorf, Nina Pagalies, Julius Hartung, Jesse Kraft, Christina Röckl, Thorsten Pütz, Gottfried Gusenbauer, Sabine Güldenfuß, Emma Åkerman & Yoichi
I'm dedicating this book to my brother Thomas. When we were kids we were sitting in his room reading and drawing. He said he would draw comics as an adult. I said "me too".
The novel is about complexity. Stories are woven into each other. Parallels appear, new connections are made and causality dissolves. A rhizomatic network about love & death, relationship & community, critique of the system & search for meaning. You will find abstract dancing patterns and human like characters, talking plants and dreaming giants, shape shifters, animals & smart snowflakes. Narrated trough classic panel and freely associative drawings.

click here for an overview ->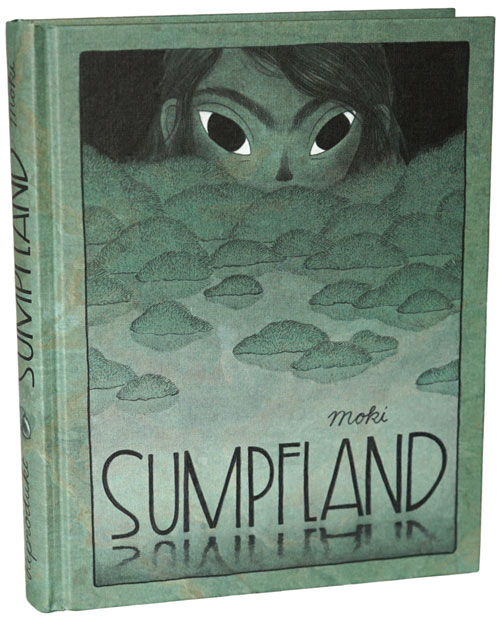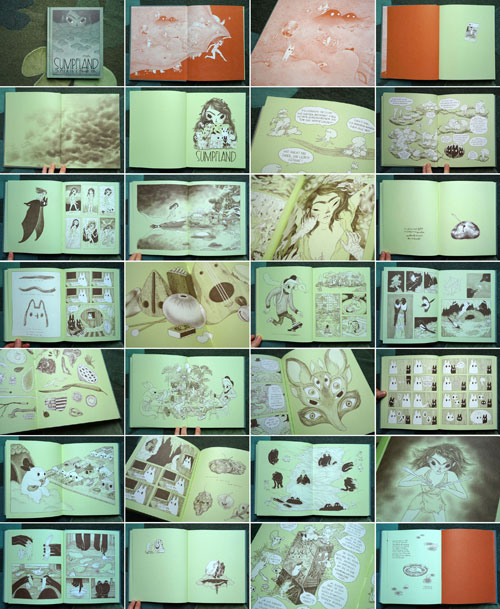 SPRING #15 'WORK' 29/8/2018
the latest issue of SPRING presents 13 different views on the topic of 'WORK' by Larissa Bertonasco, Romy Blümel, Doris Freigofas, Jul Gordon, Katharina Gschwendtner, Friederike Hantel, Carolin Löbbert, moki, Nina Pagalies, Paula Partzsch, Katrin Stangl, Birgit Weyhe & Stephanie Wunderlich
order at mairisch: mairisch.de/programm/spring-15-arbeit
springmagazin.de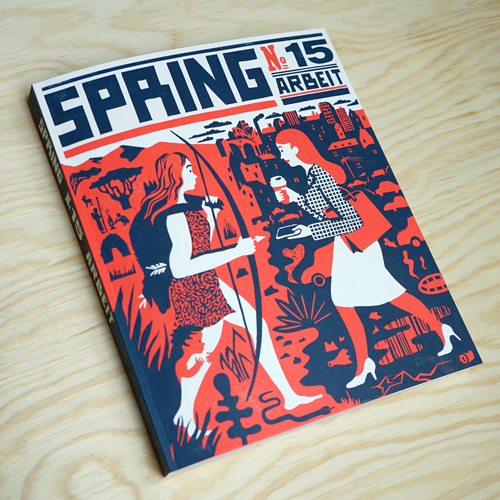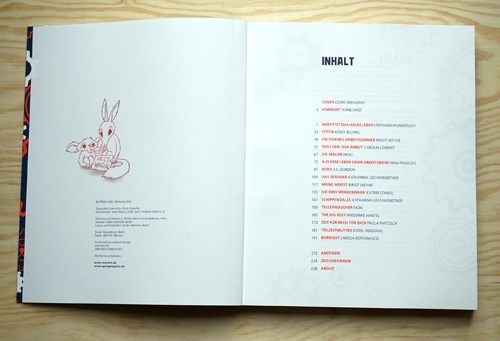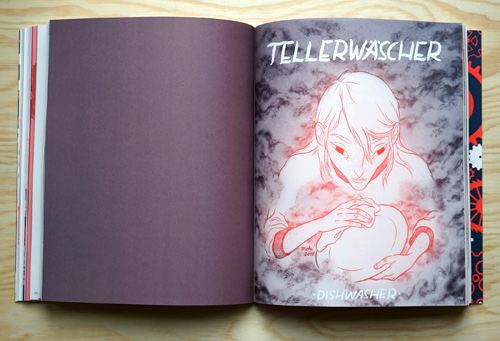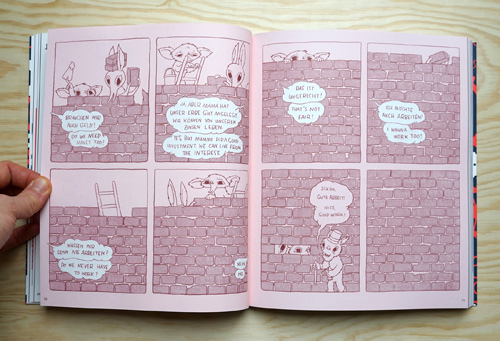 THE CARELESS KIND 3/3/2018
TELLERWÄSCHER 8/2/2018
i am drawing on the comic story DISHWASHER for the upcoming 15th issue of the SPRING anthology presenting works from 14 femal artists about the topic 'WORK'.

interpretations of the character poppoff by my godchild jesse: